History - 65 Years - Our Story is You
Milwaukee PBS began broadcasting on October 28, 1957, becoming the nation's 28th educational television station on WMVS-TV. It was licensed to Milwaukee Area Technical College which had established a Television and Video Production Program in 1952. This partnership was designed by community leaders in order to provide hands on training to MATC students, as well as support to the operations of Channel 10.

In its first years, Channel 10 broadcast 17.5 hours of programming each week, Monday-Friday 5 p.m. until 8:30 p.m. Shortly into its launch, Milwaukee Public Schools and the Catholic Archdiocese began using Channel 10 as an instructional tool, one of the main catalysts for the stations rapid growth. By 1962, it was broadcasting a total of 69 hours weekly.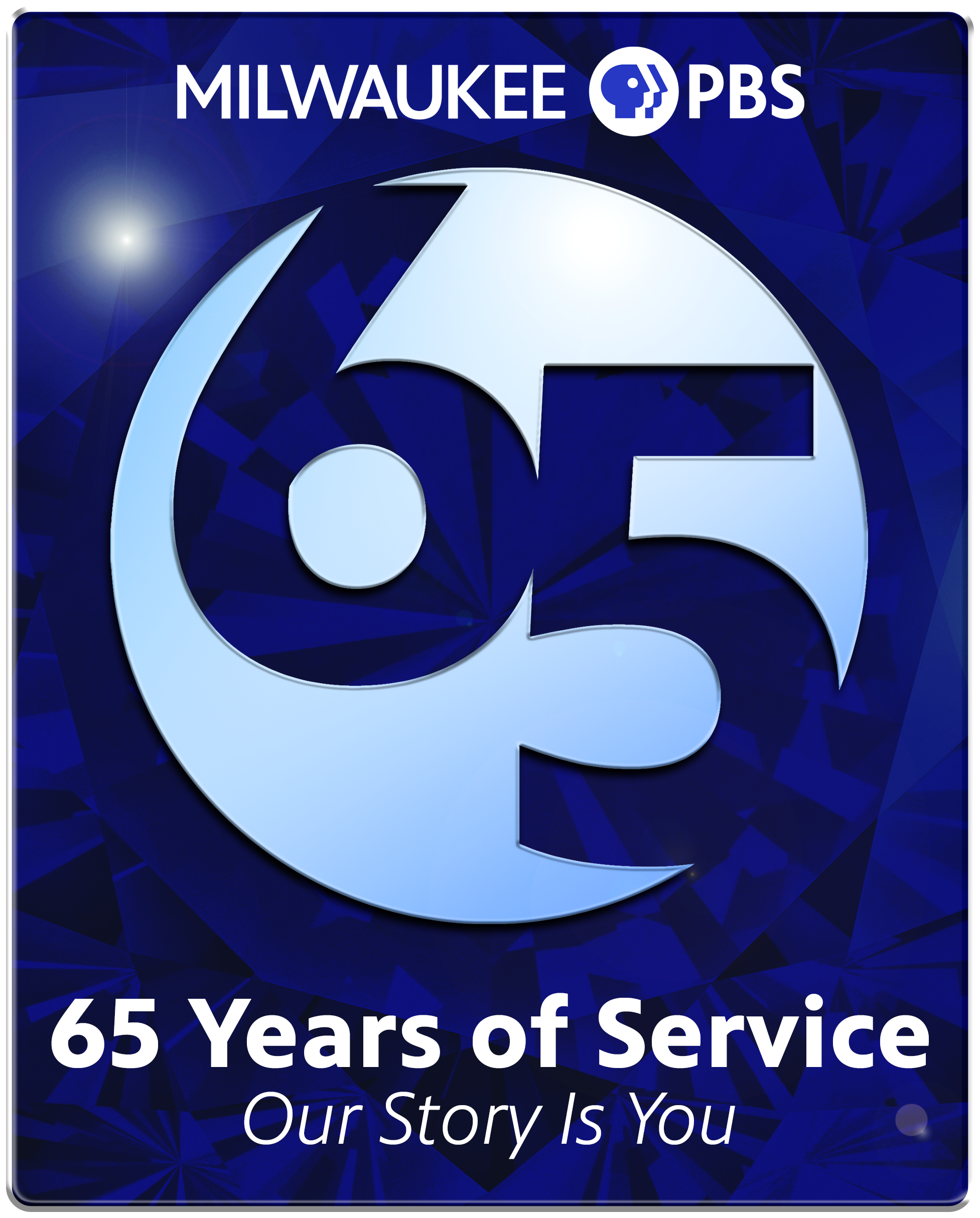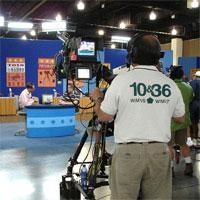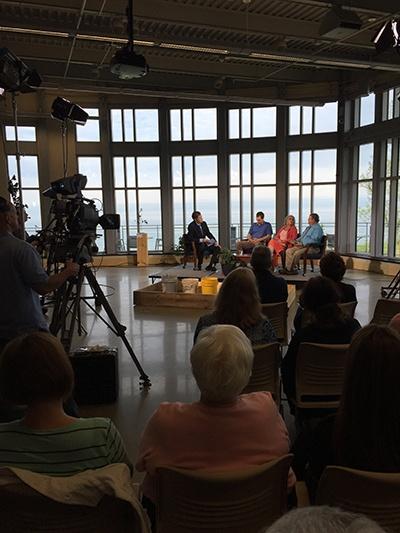 Channel 10 began offering additional programming from other public television stations through the National Educational Network but was also producing and airing local programs such as "Wee Weekly", "The Inquiring Mind", "Way Off Broadway", "Green Thumb", and "Golden Years".

In 1963, MATC obtained a license for a second station, WMVT-TV, assigned to Channel 36. Throughout the years, the two stations experienced technological advances, including broadcasting in color in 1965, joining the PBS satellite system in 1978, stereo broadcasting in 1985, and digital broadcasting in 2000.
Today, Milwaukee PBS offers its two over-the-air channels in high definition, and four additional channels, including WORLD on Milwaukee PBS 36.2, PBS KIDS on Milwaukee PBS 10.3 and CREATE on Milwaukee PBS 10.2, as well as a weather/traffic channel.
Milwaukee PBS broadcasts over 200 hours of programming each day, 365 days a year, and viewers enjoy a quality mix of public affairs, cultural, minority, entertainment, children's and adult education programs. Our local award-winning shows include "Outdoor Wisconsin", "Around the Corner with John McGivern", "¡Adelante!", "10thirtysix", "Black Nouveau", and "The Arts Page".

In 2018, Milwaukee PBS produced a four-part series "Cook.Plate.Dine" which featured Milwaukee Area Technical College's culinary arts program.
1952
Milwaukee Vocational School (predecessor of MATC) applies to the Federal Communications Commission to operate Channel 10 as Milwaukee's first educational TV station.
1954
MATC establishes TV technician and telecasting training programs.
1957
The first live instructional broadcasts to the Milwaukee Public Schools as part of Ford Foundation experiment.
1965
The nation's first educational TV broadcast of a color program using an experimental flying spot scanner.
1969
First Great TV Auction — raised $67,000.
Live broadcast of the opening of the Milwaukee Performing Arts Center.
1970
HATHA YOGA with Kathleen Hitchcock, Milwaukee PBS's first national production, premieres.
1975
First on-air membership campaign raised $23,000
1977
First program underwriting announcement.
1978
First live telecast of a courtroom trial in Wisconsin, second in nation, the Amaro murder trial.
1980
Public/private transmission tower cooperative between WVTV-TV, Channel 18 and Channels 10 and 36.
1984
OUTDOOR WISCONSIN premieres (becomes national series).
1985
First station in Wisconsin to broadcast stereo sound.
1987
National Emmy award recognition for participation in national Descriptive Video Service experiment.
Local Hispanic program CONCIENCIA offers Spanish translation on Second Audio Program (SAP).
1989
THE GREAT CIRCUS PARADE taped in experimental HDTV (HD) format.
1990
TRACKS AHEAD series premieres (becomes national series).
1992
WMVT-TV used to conduct world's first full-power digital broadcast test with Zenith/ATT.
1994
First Young Writers' Contest held to encourage literacy.
Installed digital satellite reception equipment.
1995
Launched web site at www.mptv.com
1998
Ground was broken for 1,221-foot digital tower cooperative with American Tower, Inc.
1999
THE GREAT CIRCUS PARADE produced as the first live HD broadcast on PBS.
2000
WMVS is first digital TV station to sign on the air in southeastern Wisconsin.
2003
Remote HD truck is put into service to enable coverage of community events in high definition.
2006
The multi-Emmy award winning THE MAKING OF MILWAUKEE mini-series premieres, scoring the highest public TV primetime ratings in the nation.
2007
Milwaukee PBS V-me Spanish language channel premieres as an Milwaukee PBS multicast.
2008
Four new multicast channels premiere, Milwaukee PBS CLASSICAL, Milwaukee PBS JAZZ, Milwaukee PBS WEATHER, and Milwaukee PBS TRAFFIC.
2009
Analog WMVS and WMVT sign-off the air, replaced by digital WMVS and WMVT.
2010
I AM THE FIT GENERATION initiative launched to encourage healthy eating and physical activity in children.
2011
Year-long Finding Work initiative launched, featuring monthly series JOBS.
2012
Friends of Milwaukee PBS, a non-profit whose primary mission is to help financially support Milwaukee PBS, merges with Milwaukee PBS as one organization.
2015
Milwaukee PBS's Master Control moves to Florida with consortium of other public television stations.
2016
10THIRTYSIX, a monthly news magazine featuring the diverse stories of Wisconsin, premieres.
MPTV becomes Milwaukee PBS.
2018
Milwaukee PBS launches new mobile friendly website and digital first focus.
2020
The Covid-19 Pandemic forced us out of the station and into our homes. But that didn't stop us from telling your stories.
Our interim digital only stories and website are recognized by the NETA, Communicator, Anthem and Telly Awards.
2021
My Wisconsin Backyard debuts as a web-online series, gaining over 20,000 followers and a Telly Award in its first season.
2023
Milwaukee PBS's Master Control moves to Madison. Digital first content continues to expand with an award winning Podcast, Speaking of...