Need help with your viewing issues?
If you have a Cable or Satellite connection – there is no action you need to take. Your provider should have updated your channels automatically. If you have Cable or Satellite, and are having trouble finding our channels, call your provider.

The new channel configuration was needed because the FCC held a nationwide spectrum auction of television station bandwidths, to expand wireless services in order to meet the increasing needs for faster and higher capacity mobile broadband services. Milwaukee PBS, a licensee of Milwaukee Area Technical College, participated in the broadcast spectrum auction.

If you watch channel 10 and 36 using an over-the-air antenna, you needed to make some adjustments to your television and/or antenna.

If you have already scanned your television, but are having reception issues, here are some trouble-shooting techniques:
Assure your antenna is capable of receiving a VHF/UHF signal
Channels 10.1, 10.2, 10.3, 36.1, 36.2, 36.3 and 68.1 - 68.8 are now only broadcast on VHF
Many antennas were designed to receive only UHF channels
For best reception, have your antenna as high as possible in your house, close to a window
Antenna should be aimed at our tower in Estabrook Park (I-43 and Capitol Drive)
Using your television remote, perform a channel scan. Your television remote may use a different term if you cannot locate this function, contact your television manufacturer customer support.
After you adjust your antenna and scan for channels you should be able to see 10.1, 10.2, 10.3, 36.1, 36.2, 36.3, 68.1 - 68.8 if these channels do not appear, you may need to readjust your antenna - or in some cases obtain a new one.
Each time you make an adjustment to your antenna placement you will need to scan and verify the correct channels were recognized by your television.

If you have NOT already scanned your television, please follow the instructions below:
VHF/UHF TV Antenna Suggestions
In the Milwaukee Market, you will need a VHF/UHF antenna in order to receive all of the PBS lineup.
Channels 10.1 - 10.3, 36.1 - 36.3, and 68.1 - 68.8 will be received only on a VHF antenna. If after you perform the scan you experience an intermittent signal you may wish to consider evaluating a different antenna.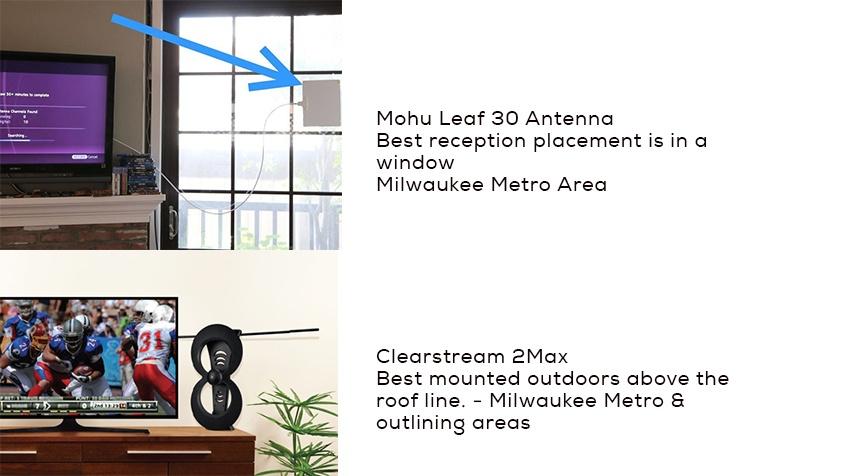 If you are in the Milwaukee metro area an indoor antenna is likely all you will need to receive our signal. Place the antenna in a window facing the television towers located in Estabrook Park on Milwaukee's northeast side.

If you live farther away from Milwaukee, you may need to consider an outdoor antenna that is installed above your roof line.

It's important to note that there is no one size fits all antenna.

For the Metro Milwaukee area, we suggest a MOHU Leaf 30 antenna available at Best Buy for $40. Use an RG-6 antenna cable with this antenna. For Metro Milwaukee and beyond, a ClearStream 2Max antenna available at Best Buy.

Professional Antenna Installation and Repair

The best antenna option is to suggest a professionally installed VHF/UHF antenna system that feeds all TVs in the house.

For more information about antennas please visit our FAQ page
First, remember if you watch television over cable or satellite you don't have to scan.
If you watch television over the air using an antenna you WILL need to SCAN. Typically you use your remote to perform the scan. You can follow the steps in your owner's manual or look online. Since the process is a little different for each brand of TV we have provided some of the top television manufacturers' information on how to perform a scan. The process will vary depending on the model you have. The information below is intended to get you headed in the right direction. You can refine your research from there. If your brand of television is not listed below you can also check the FCC Consumer Toolkit.