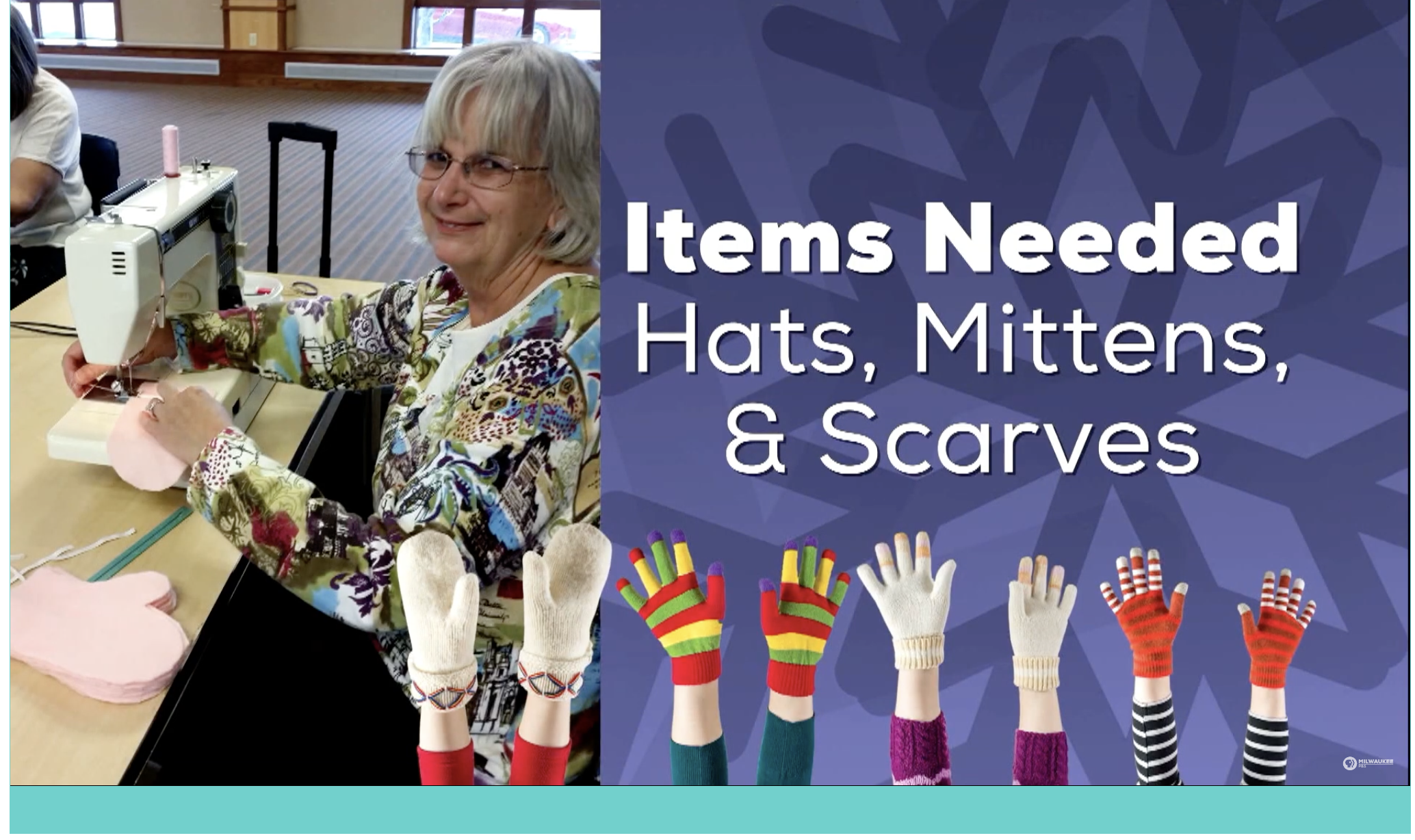 Join us in spreading warmth and love this winter by donating to Mittens and More 2023, Milwaukee PBS' cherished charitable campaign. We're on a mission to collect new hats, scarves, and mittens for people of all ages, ensuring that everyone in the Milwaukee area stays cozy and cared for.
Calling all knitters and craft enthusiasts, it's time to get those yarn and needles ready! 🧶✨
Create beautiful hats, scarves, and mittens that will not only keep people warm but also fill their hearts with joy. Don't worry if you're not a knitter; we have mitten patterns available for sewing, or you can simply contribute by purchasing new items. Everyone is welcome to be part of this heartwarming initiative.
The collection drive kicks off on October 1 and runs through October 29, giving you plenty of time to get involved and make a difference.
We're thrilled to partner with Colectivo Coffee, MATC, and other wonderful organizations that will provide convenient drop-off locations.
Let's come together as a community to keep hands, heads, and hearts warm this winter. Your generosity and kindness will make a world of difference!
Easy Sew Mittens for Children
Stay tuned as we update this space with more drop-off locations as they are confirmed.
Milwaukee PBS
MATC Downtown Campus
1036 N. Eighth Street, 4th Floor
Milwaukee, WI 53233
(Donations can also be mailed to Milwaukee PBS)

MATC Downtown Campus
Entrances at:
1015 N. Sixth Street
Administration Office - Room M278
Academic Support Center - Room M273
Colectivo US Bank
777 E. Wisconsin Ave.
Milwaukee, WI 53202

Colectivo Third Ward
223 E. St. Paul
Milwaukee, WI 53202
MATC Mequon Campus
5555 Highland Rd, Mequon, WI
Entrance #1 - Switchboard/Information Desk
Mon - Thu 7:00 AM - 6:00 PM
Fri 7:00 AM - 3:00 PM

Colectivo Cafe Grafton
1211 Washington St.
Grafton, WI 53204

Colectivo Cafe Mequon
11205 Cedarburg Rd
Mequon, WI 53092
Colectivo Humboldt
2999 N. Humboldt Blvd.
Milwaukee, WI 53212
Colectivo Lakefront
1701 N. Lincoln Memorial Dr.
Milwaukee, WI 53202
Colectivo Prospect
2211 N. Prospect Ave.
Milwaukee, WI 53202
Colectivo Shorewood
4500 N. Oakland Ave.
Shorewood, WI 53211

MATC South Campus
6665 S. Howell Avenue, Oak Creek
Main Entrance
Mon - Fri 7:00 AM - 9:00 PM
Colectivo Bay View
2301 Kinnickinnic Ave.
Milwaukee, WI 53207

Colectivo Foundry
170 S. 1st St.
Milwaukee, WI 53204

MATC West Campus
1200 S. 71st Street, West Allis
Entrance #1 - Switchboard/Information Desk
Mon - Thu 7:00 AM - 8:00 PM
Fri 7:00 AM - 3:00 PM
Colectivo Wauwatosa 68th St.
6745 W. Wells St.
Wauwatosa, WI 53213

Colectivo Wauwatosa Swan Blvd.
9125 W. North Ave.
Wauwatosa, WI 53226